Enquiry Tracker partners with Alliance to revolutionise girls' school enrolment processes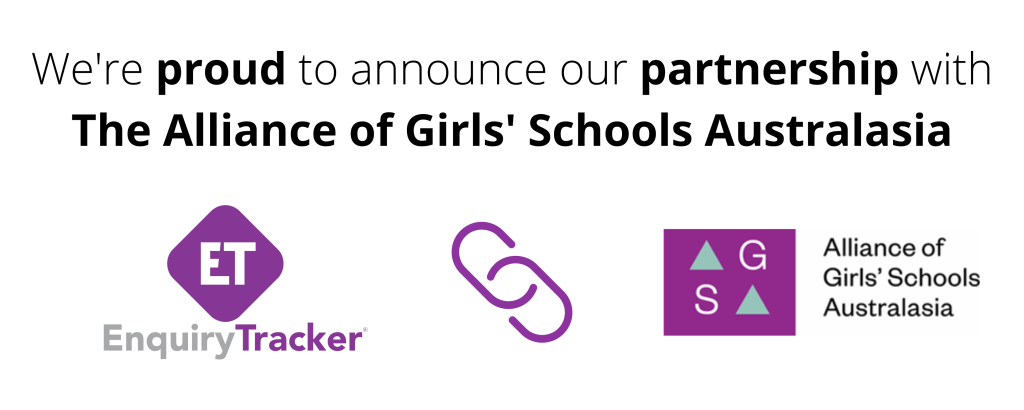 We are thrilled to officially announce our new partnership with The Alliance of Girls' Schools Australasia.
The Alliance of Girls' Schools Australasia is the leading voice for the education and empowerment of girls and young women, advocating, contributing and supporting the distinctive work of girls' schools in their provision of unparalleled opportunities for girls.
They connect educators from our 190 plus member schools across six countries, representing over 132,000 girls, over 17,000 educators and attract over 3000 program participants annually to local events, and regional conferences.
We are passionate about building strong women as leaders and the Alliance is critical in fostering that outcome.
By applying our innovative customer relations software to revolutionise the school enrolment process all over the world, we are incredibly excited to be partnering with the Alliance.
What Alliance member schools using Enquiry Tracker have to say:
MLC School (Sydney) is implementing the Enquiry Tracker system for all admissions related data management and contact with prospective families through their journey from enquiry to final enrolment. The team at Enquiry Tracker have worked closely with us to ensure the system is designed to support our process and procedures, have been exceptional in their customer service focus and willingness to develop and adapt the system based on our suggestions.

Enquiry Tracker has moved both our communications and analysis into a new realm of professionalism. It is easy to use, intuitive and accurate. The visibility of the analytics is instant. The capacity to quickly see which families have requested a prospectus, attended a school tour, the student's interests, location, primary school and more means our interactions are informed and personalised.

The Enquiry Tracker team truly understands the admissions process and are continuing to develop the product in line with user practice and advice. The best thing is that the system is not trying to cover too much, remaining focused on admissions only is a significant advantage. I would not hesitate to recommend Enquiry Tracker for those looking at taking their admissions practice to a new level.
Since St Oran's College  transitioned to Enquiry Tracker's Pipeline feature in May 2021, we have successfully transferred over 2000 applications from their original paper format to the Pipeline product. The process was simple from start to finish, with personalised support offered at every step. The training provided before the transition was detailed and allowed us to quickly and easily construct the various forms and event registrations required. These blend seamlessly with our existing branding, and enhance the application process for our prospective families.

 It is now hard to imagine how we managed our enrolment system without Enquiry Tracker, and we are looking forward to implementing the Apply function before our next application phase.