The 3 Marketing Pillars that Schools must address under COVID-19
Why is this important?
The COVID-19 pandemic has forced schools to close their facilities for reasons that are obvious to us all. While teachers still need to educate online, school marketers and admissions staff have to think differently. The next months will be crucial to a school's business in the long term.
Schools need to take a lateral approach to their brand, how they market their school and respond to the needs of families, many of which are sequestered at home with children participating in remote learning classes.
So what to do? What schools communicate to their staff and parents will matter deeply. How they take control of their brand will matter more than most realize.
We've thought about this a great deal and wanted to share some ideas on what schools can do during this incredibly and rapidly changing time. We've focused on three key pillars: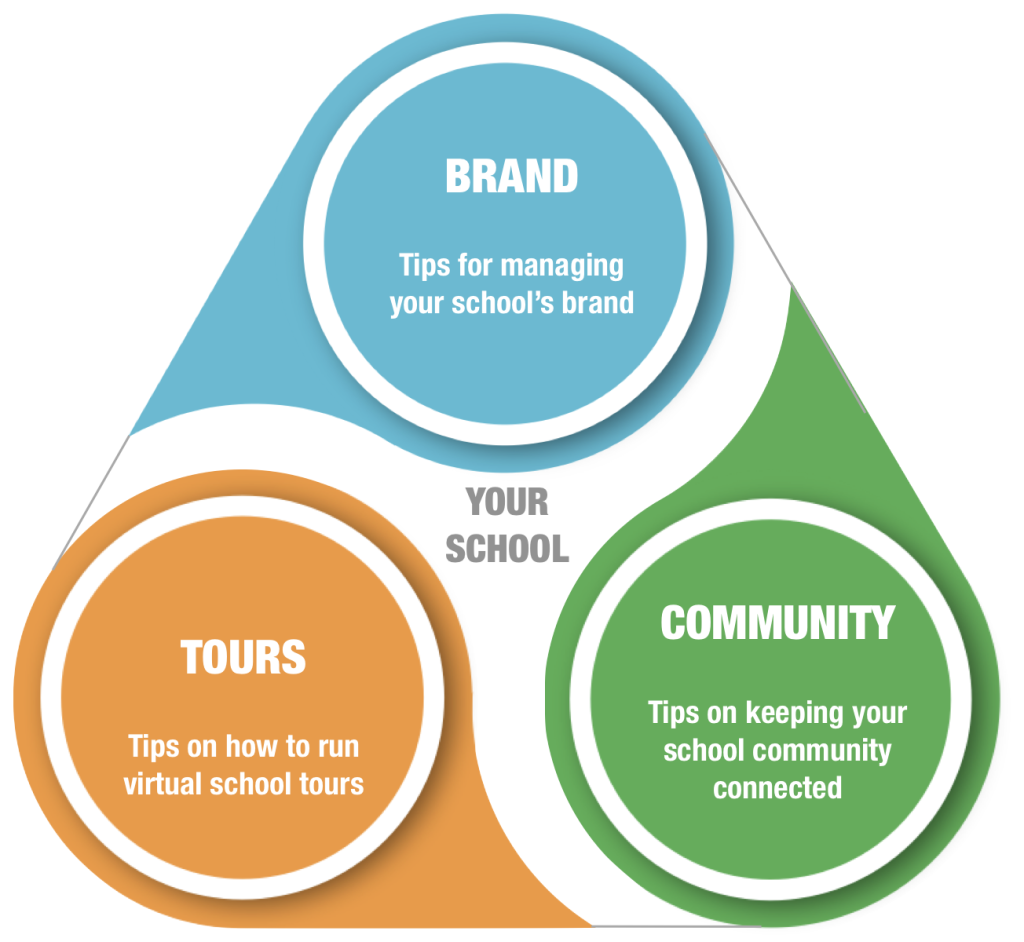 Part #1: Managing Your School's Brand in COVID-19
This is your reputation on the line and it is at risk more than many may understand. Why? For the first time in the modern history of education, parents can literally step into the classroom. Once the sole domain of the chosen primary school class-helper, it has now become fair game for all. It is a quantum and pivotal moment.
Yet, with most schools shuttered and online learning underway, your student's parents also have the opportunity to watch what is going on and can quickly report on what they do and don't like. They can witness everything their children are taught. We all argue tirelessly that our teachers are a key factor in our brand; this has just increased a hundredfold. Teachers will be under a spotlight like never before, and in our view the vast majority are not even aware of this: and this is a risk.
The last thing you want is a teacher sitting in their PJs, lecturing a class and waffling on about some off topic item only to have it recorded and posted to social media. This could be a PR nightmare. Multiply that by all your teachers/classes and the risk grows exponentially. Parents can listen, screen shot, record, post and share their views all without the knowledge or consent of the school.
Parents form an opinion positively or negatively about what is going on. This is compounded further if schools and parents are both on an extended lock down mode, and they will inevitably become frustrated and if they witness their child being educated in a less than desirable way, they'll undoubtedly voice their concerns at a potentially higher level than ever before.
Have you got a brand plan for online education for your school? Chat to your Principal about adopting these tips:
10 Tips on Going Remote for Brand…
The Mindset: Mirror the on campus experience as best as you can. Why? Because you want to maintain the daily connection – routine, roll call, assemblies, celebratory moments can still happen even though they might be virtual.
Staff Professional Dress: Ensure the same set of classroom dress guidelines continues to apply for all teachers working remotely.
Students' Dress Code: Similarly, students should also be asked to dress appropriately, for those schools that have a school uniform why not encourage that that is worn or perhaps a school sports top.
Appropriate Environment: The environment is key. If teachers are permitted to teach from their original classroom then great, otherwise it should be in an appropriate room and be sure to watch the background. Be aware of ambient and unwanted noise – dogs barking etc. Students should be seated at a desk or quiet area and not participate from the bed or couch.
Lesson Scope: Consider the length of the lessons and ensure they run to the school schedule. Parents know the original timetable, so stick with it and be sure the banter is kept at a normal level.
Correct Communications: Given the unique environment, there may be temptation to adopt a more relaxed attitude – remember what teachers say can be recorded so reiterate the position that no off topic conversations happen – if you don't want it online, then don't say it. A good rule of thumb here is that if you wouldn't say it in class, don't say it online.
Memorable Moments: Consider that a parent may record what is happening. So, if and when it does occur, seize the opportunity to create a memorable moment for your school. Your goal is for a family to capture online learning happening and share it in a positive manner.
Staff All Hands: Keep your staff informed by having a regular staff or all hands meetings so everyone still gets to see one another and share stories about what is working etc. Don't stop at formalities as this can be a social event too, why not allocate the last 30 mins for coffee or a cocktail and chat!
Policy: Document a staff and student policy for online learning. Not only does this ensure that expectations are clearly articulated but the parent body knows that you are well ahead of the game!
Stay Online: Remember the vagaries of various internet connections, especially for regional and remote learners – ensure they have access. Consider supplying courtesy internet access devices.
– Greg