The Art of Communicating to Families
You need to treat all families as individuals
Given you have asked the right questions, you'll be able to easily segment your audience and send them the most relevant information. Segmenting is treating everyone differently.
Many schools don't capture the right data, so they are unable to easily segment their communications. So they simply send group communications to everyone, e.g. inviting everyone to the school musical or sending everyone a copy of the school magazine. A better system allows highly personalized communications based on when the student is starting and what interests they may have that match to your school's programs.
This may seem 100% obvious at first, but let's take a moment to review. There are 3 questions to consider when communicating to your audiences:
When will the student be a potential applicant to start at the school?
What are the students' interests?
What level of engagement has the family already had with the school?
Let's dissect each of these.
Email Communication is Aligned with Start Date
If the family registering for an event has a child that is potentially starting in the next 2 years then you would send emails at a higher frequency than one that is starting in 5 years. If you know they are considering an upcoming year, then you will definite y email them frequently and notify them of key deadlines, such as application due dates, so they don't miss out. Likewise, if they are not starting for several years, then you may only email them twice a year to keep them apprised of interesting developments or results that your school is producing.
Student Interests
Schools have an extraordinary amount to offer. Extra curricular programs and specialist areas of study can engage and excite families. Why not list these as selectable items on your web forms or alternatively capture them during an event or school visit? See strategy #8 for more information on this topic.
Capturing this information provides a unique opportunity to find out more about the potential student: are they interested in sports, drama, art or anything else that the school offers? What if you knew they were a girl interested in robotics or a boy who loves dance? You could reflect that understanding in your email communication. You might even introduce new programs.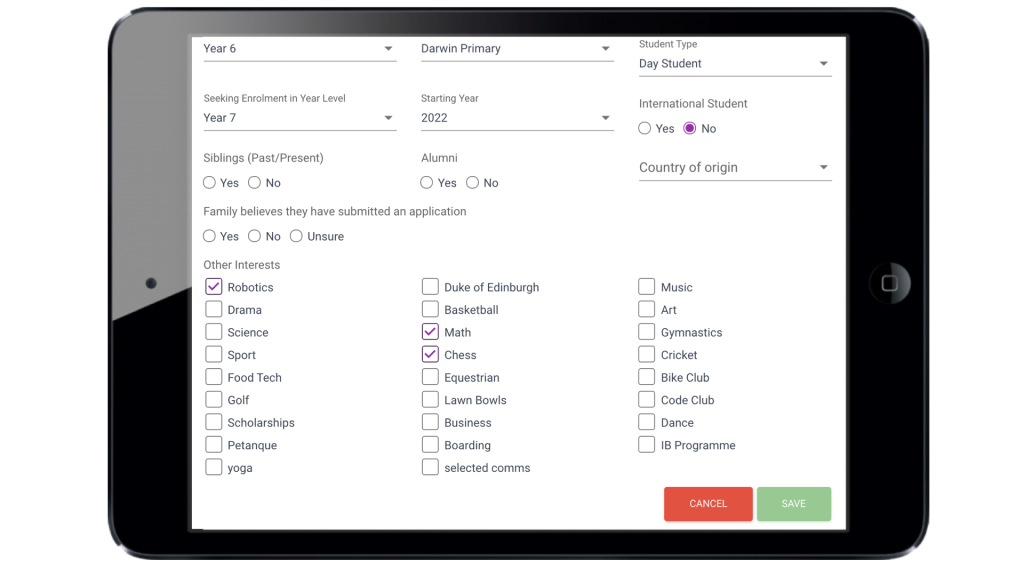 Family Demographics
Ideally, it would be great to know as much as you can about families before they visit your school. Are they alumni? Do they live locally? Is this their first or second tour? What elementary school do they attend? How many times have they interacted with your school?
This kind of demographic profiling raises the bar – thankfully, Enquiry Tracker allows you to capture these essential elements.
With this information in hand, you can find a subset of your audience to communicate relevant content, for example;
Send a come-and-try day for those who love chess or a sport
Invite girls interested in robotics to come to the summer robotics camp with other potential girls in the same cohort group.
Invite those interested in music or drama to the annual recital or play.
You get the idea…