Where to store all those enquiries?
Spreadsheets, Event Management Software, Your inbox …
The lifeline for every school is future families and the majority of these will come from attending an event (virtual or in-person) or filling out a form on your website to get more information.
So where does the enquiry go?
For some schools, it simply generates an email to an inbox waiting patiently for a staff member to reply while other schools automatically or manually enter the data into some other source. It is quite remarkable to see how many schools are battling away managing all their enquiry data in a spreadsheet, some with hundreds of rows and columns, totally overwhelming.
There is a better way: a database. Because databases store information more efficiently, they can handle volumes of information that are unmanageable in a spreadsheet.
As professionals, we searched for a dedicated system that was built solely for the education sector. However, we could not find one that met the needs of admissions & marketing staff, so we developed Enquiry Tracker. It takes all those leads and web form submissions from your website and stores them in one central database. One that you can access at your fingertips from anywhere.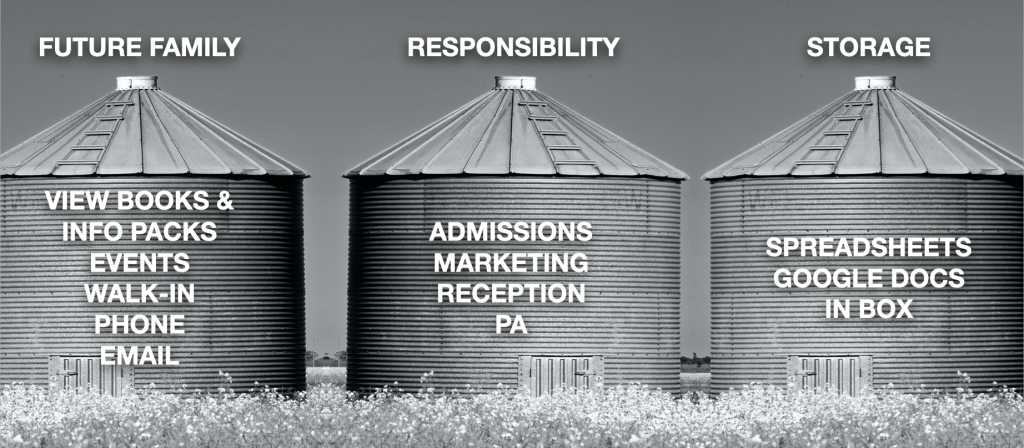 In our experience we often see staff members with different responsibilities. For example, one person runs major events, such as School Tours; another looks after admissions; the Principal's assistant coordinates private tours; and reception deals with casual queries. All of which are often stored in disparate systems. It is fragmented.
A unified system, like Enquiry Tracker, allows all staff to be on the same page quickly and efficiently.
Moreover, it is important to track historical interactions, so when a family engages with the school we understand the nuances of the relationship.