Why the right questions are key
So what questions should you ask on your website?
Now you have web forms running on your website, and they are prominent, you must avoid falling for the trap of asking so many questions that the experience becomes intrusive. Sometimes less is best, and with the right system you can always gather more data later on.
Firstly consider:
What information do you need to know to establish an accurate pipeline?
What information do you need to gather to follow up?
Which marketing campaigns are working?
Understanding your Pipeline
Your pipeline revolves around knowing how many potential students you have coming in to your school at any given time – even years out. You need a minimum amount of information for forecasting purposes. The scope of this varies broadly dependent on your offerings, so if gender and diversity are important, then you should collect it.
At a minimum, the fields to collect on your online forms for your pipeline are:
Student Name i.e. First and Last Name
Calendar year of entry i.e. 2023
Grade year level i.e. Year 8
With this data on hand you will know the number of potential candidates for any given year and intake year level. Now you can build funnel charts for forecasting purposes: Enquiry Tracker does this for you.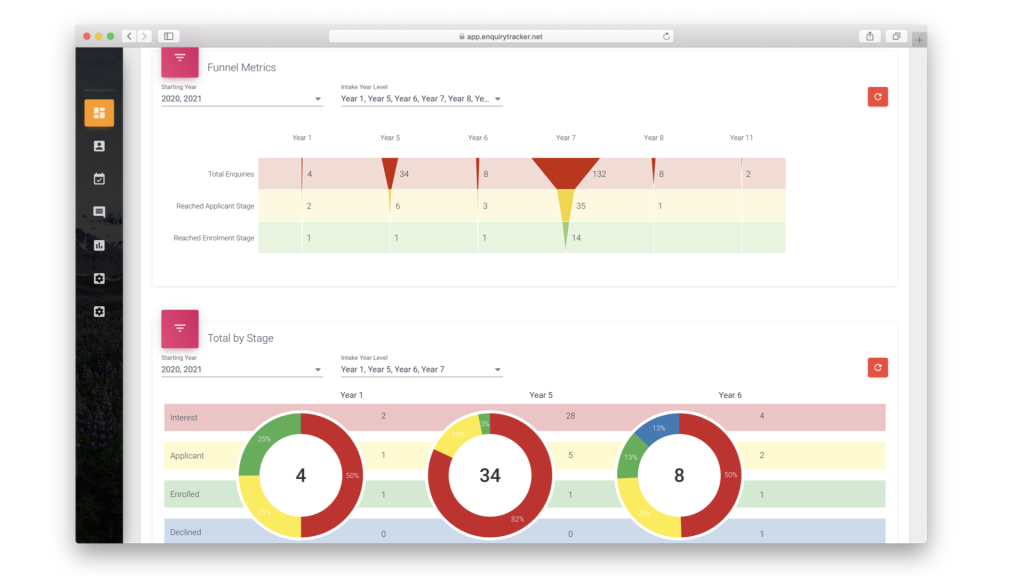 Personalized Communication
In order to build a relationship you must get an email address. Furthermore, it is always good practice to capture the parent or guardian's name, so you can personalize your communications.
At a minimum, the fields to collect on your forms are
First and Last Name
Email address – make sure it is correctly formatted
Phone number (optional but good practice as it allows that personal touch)
This data, combined with your student information, enables you to send personalized emails to your future families that are timely and on topic. For example, only send impending application deadline emails if they are planning to enroll in an upcoming year! Make sure they are relevant.
Key Campaign Metrics
As we covered under a previous post, it is important you know how leads are coming into your system. Well it is just as important to know how families heard about you.
We recommend you do this in two ways:
Always ask the question – "How did you hear about our school?" Offer a menu of options to choose from as it will help with insights.
Embrace analytics, like Google Tag Manager and Google Analytics to monitor any clickthrough activity on digital campaigns and other sources of traffic
Remember that there is a subtle difference between how a future family heard about you and what drove them to come to your website to fill out a form on any particular day. Consider the following:
For Example: You are running a Facebook ad campaign to promote an upcoming event e.g. Open House. A prospect sees the ad and clicks on it. They fill out the event registration form and say they heard about your school 'from a friend'.
At Enquiry Tracker, we have analyzed the data from thousands of families, the top 10 sources are: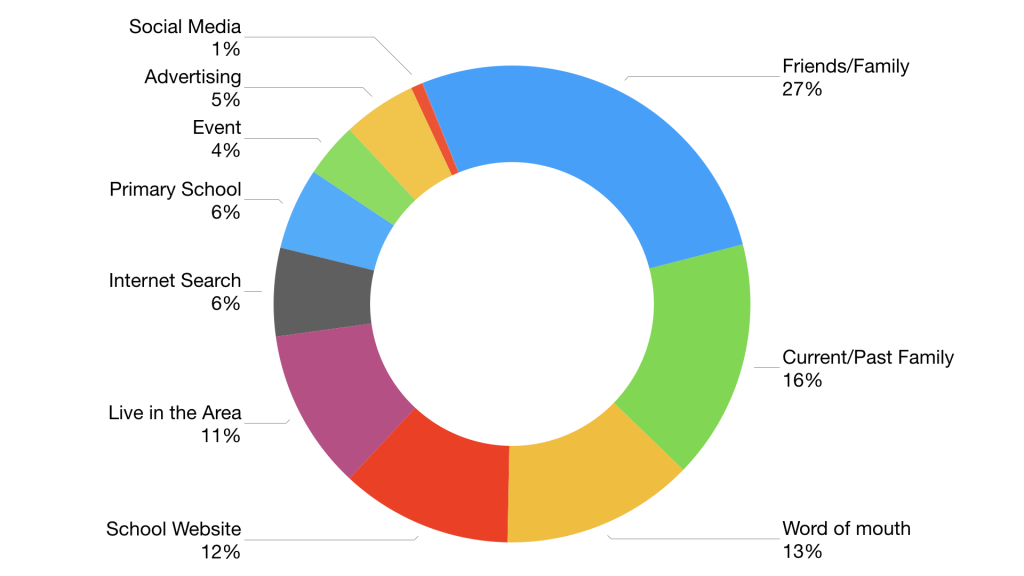 The data you have here is two-fold.
You are measuring the Return on Investment (ROI) on your Facebook advertising, i.e. a person clicked on the ad and went to your site where they filled in a form. As a result, you know how much every lead cost you to get from that campaign.
Secondly, there is a difference between whether they heard about your school from advertising or from a friend, in this example, while they clicked on an ad they actually heard about you from a friend.
In fact, both these pieces of data are important and will influence how you spend precious marketing dollars for your school.