Discover How To Run School Tours during the COVID-19 crisis
How live-stream technology can keep your tours on a roll
Part 3 of our 3 part series. Be sure to read Part 1 and Part 2
The lifeline of every school is future enrolments and this is more critical than ever in today's environment. Schools' need to double down on marketing and make sure they are focused on getting the word out and communicating their brand. The ones that do will thrive and survive, the ones that retreat into their shell and decide to cut the marketing budget and reduce staff are the very ones at the greatest risk.
After all, schools will reopen: parents still need to choose a school for next year or the years after that. They will still do their research. With a population moving from being historically time-poor to one that is rapidly becoming time-rich, this level of research will only increase.
What we have found out from working with hundreds of schools is that 94% of enquiries come in online – via tours or website requests. Any enquiry a school is getting today is even more likely to be online given the extraordinary conditions we are living under.
We all know that the very best method of conversion from enquiry-to-applicant is the School Tour. If we can get them here, we are confident they will enrol. The challenge is that campuses are closed.
Crucial point: While most schools have cancelled all their 'On Site Tours' this does not mean that all tours are closed.
So, what can you do if families are no longer able to physically tour your school?
Answer: Have a virtual tour, and I don't mean a traditional 360 tour video (although those are helpful), I think schools need to conduct a live-streamed virtual tours and Q&A of what they are offering.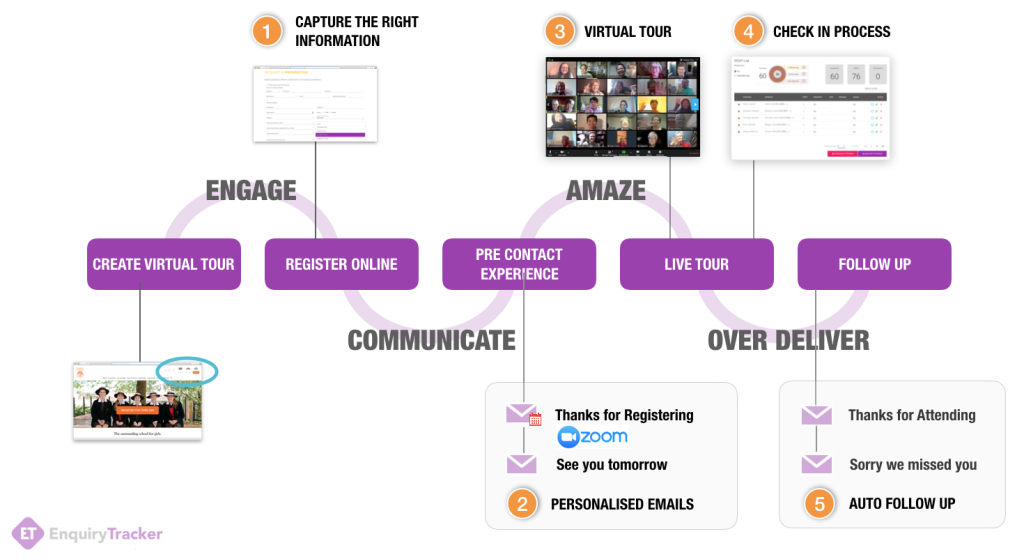 Get Live Streamed Tours Happening
Utilize Live Stream Technology: Both Zoom and Google have stepped up in an amazing way and made their services available for schools to be able to stream content for both remote learning and engagement. Zoom's tips for setting up safe meetings.
Set Up Your Tour: Use one of these services to set up an online meeting where your prospective families will be able to join come virtual tour day. Once set up, you will have a unique link that you can use in your invitation. Don't share this online.
Register Online: Even though families are at home, insist that they register for the event as normal via a web form on your site made easy with systems like Enquiry Tracker. This ensures you are still collecting all the key data.
Engage: Keep the conversation going by sending them an automated and personalised thank you email and find out if they have any special interests. Be sure to also include the unique link to your online meeting.
Schedule: Reduce the probability of no-shows by including a calendar invite so they don't miss out on your tour. Remember to send a friendly reminder the day before.
Check In: Check people into the event as normal, remembering that the technology allows you to have the "Brady Bunch" effect, i.e. multiple live video gallery of all participants.
Live Tour: Conduct an online live-streaming Tour so that families can interact with you and your staff first hand. This can be from home or school (if possible), but importantly your prospective families get to see staff, get to know them personally and ask questions. It is as close to being in the same room as practical!
Experience Your Campus: If your campus is still open for staff to attend, they can deliver their presentations from key locations around the site, using their smartphone, they can also show the audience points of interest e.g. Science Labs / Sports Facilities. If you are working remotely, then simply share your screen and intersperse your commentary with photos and short videos.
Have an Agenda: Make sure your live streamed event is planned as you normally would a regular tour. A general welcome might be followed by a Principal's address, then a short slide deck followed by a word from the Head of Studies and Head of Extra Curricular Programs. The close might be the key steps to complete an enrolment.
Collective Sharing: The psychology of seeing a group of families all enquiring about the school at the same time provides a high degree of endorsement by social proof that you have families interested which further increases.
– Stay healthy, Antony